(Above) Photo courtesy of Son of Semele Ensemble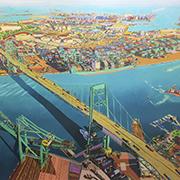 IMPORTANT: The LA County COVID-19 Arts Relief Fund application window is now closed. Thank you to all you applied, but we can no longer accept any more applications.
About
The County Board of Supervisors approved $12M to go to the Department of Arts and Culture to provide grants to 337 Los Angeles County 501(c)(3) and fiscally sponsored nonprofit arts organizations suffering from business interruption due to COVID-19-related business closures. To maximize reach and efficiency, funds were distributed to nonprofit arts organizations that are recipients of the Department of Arts and Culture's Organizational Grant Program (OGP), as well as other arts nonprofits that are grantees of local municipal arts agencies within the County. To promote equity, priority was given to organizations with an operating budget of $15M or less, in alignment with the Department of Consumer and Business Affairs' small business definition. This ensured that small and mid-sized arts organizations, which are often in service of the County's most vulnerable communities, were reached and supported.